Jon Stewart Praises Obama's Completed 'Evolution,' Slams North Carolina's Gay Marriage Ban
Stewart Praises Obama's Completed 'Evolution,' Slams N.C.'s Gay Marriage Ban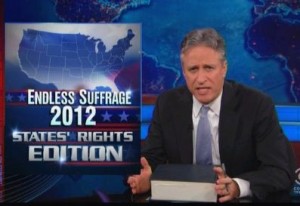 Jon Stewart, on Wednesday night, gave President Obama credit for his announcement about supporting gay marriage — and then took a look at North Carolina, which voted in favor on an amendment that would ban same-sex marriage. Thanks, Stewart said, for taking away the brief "glimpse" of happiness.
"We may have insinuated President Obama was somehow being disingenuous in giving in to his most base political calculations by not just saying he favors same-sex marriage and equal rights for all Americans," Stewart said, referring to Tuesday night's segment. "That his position 'is evolving' is weak tea."
Well, at the time, he said, who knew Obama had planned to stray from those political calculations. A symbolic victory, to be sure, he said, "that can in no way be dampened by the codifying of bigotry in — let's say the state where the Democrats are going to be holding their convention."
He's looking at you, North Carolina. Congratulations, Stewart said, "for a moment I was feeling a brief glimpse of what I guess doctors would call happiness and a full heart, and I appreciate you ending that." But oops, there may have been some collateral damage: the amendment bans civil unions and domestic partnerships for straight couples too."
"We fucked up!" Stewart remarked. "You know what though, actually. That's a step towards equality since many opposite-sex couples will now enjoy the same lack of rights same-sex couples have always never had."
In a later portion of the segment, Stewart took a look at the political implications. Or, as some are asking, just how unpopular is Obama in some parts of the country?
It's a game! "Oh, man, the president is so unpopular he's looking forward to the debates so someone will talk to him. Obama is so unpopular Kenya now says he was born in Ghana. He's so unpopular his Ben & Jerry's flavor is Im-Peach."
Collective "aww."
Have a look, via Comedy Central:

Have a tip we should know? tips@mediaite.com