Jon Stewart Provides Full Coverage Of 'Totally Non Gay All Male Tackle-Fest XLVII: Feat. Beyoncé'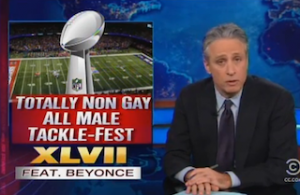 Jon Stewart began tonight's episode of The Daily Show with complete coverage of last night's Totally Non-Gay All-Male Tackle-Fest XLVII.
Referring to the unfortunate mid-game blackout, Stewart said, "A multimillion dollar sound and light show was immediately followed by yet another sign that our basic infrastructure is on the verge of collapse."
On Beyoncé's half-time show reunion with Destiny's Child, Stewart added, "she even let two contest winners join her onstage." And after the half-time show, "if you liked it, then you should have put a fuse on it."
He then turned to the commercials, in particular the GoDaddy ad that had Bill O'Reilly so angry on his show tonight.
Stewart couldn't understand why the ad was so controversial. "Because he was kissing a Jew, that's why?" he asked, referring to Israeli supermodel Bar Refaeli.
He realized that the actual cause for concern was America's belief "that affection should only take place between looks-equals." Then, showing a clip from Budweiser's commercial, Stewart asked, "How was this objectionable but everyone was fine with the one about the guy who was obviously fucking his horse?"
Finally, Stewart focused on the triumph of the Baltimore Ravens' Ray Lewis, who overcame his history as an accused double-murderer to find God and win the Super Bowl in his final season. "Would God allow a murderer to go to 13 pro bowls? I rest my faith."
Watch video below in two parts, via Comedy Central:
Part two:
—
>> Follow Matt Wilstein (@TheMattWilstein) on Twitter
Have a tip we should know? tips@mediaite.com