Jon Stewart 'Recreates' CNN's Primary Coverage Aimlessly Wandering The Daily Show Set
Stewart 'Recreates' CNN's Primary Coverage Aimlessly Wandering The Daily Show Set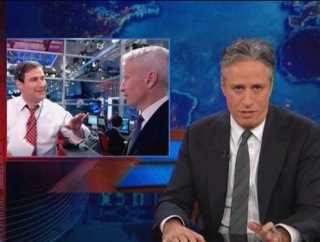 The primaries last night didn't last as long as the Iowa caucuses, but it did take some time for the tallies from Michigan to roll in. Thankfully for Jon Stewart, the delay meant that cable news networks had to find something– anything– to fill that time with, from talking about their hometowns to, as Anderson Cooper did, just wander around the studio and talk to some backstage producers, only to not really get any news.
RELATED: Jon Stewart Blasts Fox News: 'Rooting For America To Fail Since November 2008?
The Michigan election was just about a near tie, Jon Stewart noted tonight, before taking a look at all the wacky antics on TV in between the time when the polls closed till the news came out. Megyn Kelly talked about her hometown, while Wolf Blitzer just got really excited when the magic wall's voter numbers changed, despite telling the audience that it would be updating its numbers all night. "The last time I saw someone so excited about numbers changing," Stewart joked, "it was a vampire made of felt."
Then Stewart looked at what he considered the most bizarre time-waster on CNN: Anderson Cooper sauntering over to the CNN "Cube," where producers look at the statistics as they roll in. Christening this the CNN "nerd terrarium," Stewart noted that Cooper walked over to the cube and asked for new information on the election. What he got? That of the 15 electoral votes up for grabs, "CNN can now award three delegates, not only to Mitt Romney, but also Rick Santorum." CNN then aired Cooper walking out of the Cube back into the studio proper, a "walk of shame" that Stewart recreated in his own studio, walking over to an unnecessarily crowded phone booth in the corner of the studio where correspondents were frantically dialing their cell phones for no apparent reason.
Stewart also took a look at the actual winners of the race– Romney and Santorum alike, trying to avoid the obvious "santorum" jokes but finding little restraint when the candidate says in his election night speech, "tonight we came into the backyard of one of his opponents."
The segment via Comedy Central below:

Have a tip we should know? tips@mediaite.com