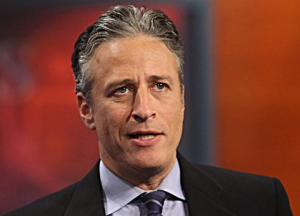 Jon Stewart is a late-night fixture, ever reliable for funny-but-critical commentary — but he wasn't always so sure about that show of his. When Stephen Colbert interviewed him at an event in Montclair, N.J., Stewart spoke about why he almost quit The Daily Show.
Stewart took over for Craig Kilborn on The Daily Show in 1999, but it apparently wasn't the smoothest transition. "What I did not realize is, a lot of the people who worked there were assholes," Stewart said at the Friday night fundraiser for the Montclair Film Festival.
Third Beat reported on the event:
"I had, before taking [the job], some conversations with the powers that be there about the direction I thought we could move the show…. I wanted it to be satirical in the classic sense of the word, not the Spy magazine sense of the word where you just add adjectives like 'pepperpot'," he said.

When said when he met with the writing staff the month prior to taking over the show, he "got the impression that that had been discussed," and he was met with strong resistance.

"I walk in the door, into a room with the writers and producers, and the first thing they say is 'this isn't some MTV bullshit'…. And then I was told not to change the jokes or improvise," he said.
Stewart said he called his agent to tell him to "get me the fuck out of this. These people are insane." Asked how close he was to actually calling it quits, Stewart replied, "I had to be talked down from a moderately high cliff." Two and a half years later, Stewart was happy with his staff.
Colbert and Stewart's chat also included some discussion about his least favorite guest (Hugh Grant, who "giving everyone shit" and being "a big pain in the ass") and some mutual admiration.
"I know Stephen lives here [in Montclair], so he's being very languid," Stewart said, "but I want you all to know… This is the most vulgar, profane, dirty, sick individual I have ever had the pleasure of laughing my ass off with."
Read Third Beat's full report here.
Have a tip we should know? tips@mediaite.com