Jon Stewart Ridicules The Seeming Hypocrisy Of John McCain's Political Career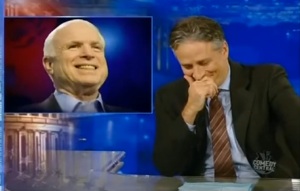 Last night was the second of The Daily Show's taping in Washington D.C. (in advance of the weekend's Rally to Restore Sanity) and Jon Stewart's exploration of incongruous political rhetoric was once again, the topic of the show. Turns out that there are lots of politicians who have made a career out of a pretty simple formula: repeatedly claim that "the system is broken"; call for meaningful "change"; then reap the rewards by never effectively changing the system. Or in Jon Stewart's shorthand: act like John McCain.
While there is a lot to unpack in the following segment (filled with lots of funny bits about Washington D.C.) the heart of the segment is a rather stunning and illuminating montage of Senator McCain publicly claiming that "government is broken" in a series of clips going back to 1987. When viewed collectively, not only does one think that McCain needs to hire a new speechwriter, but that he's been remarkably ineffective in fixing the very system in which he's thrived. It almost seems as though if he's not really interested in fixing it at all (or maybe "the fix" is in.)
There was a time, not that long ago, that John McCain was considered a good friend to The Daily Show. In fact, if there were such a thing as a Daily Show historian, he or she would likely point to the New Hampshire primaries of 2000 in which McCain's campaign invited a young Steve Carrell (and producer Nick McKinney) on their bus as a seminal moment in the show's political coverage and acceptance within the establishment. Though Mr. Stewart may simply be having a good-natured laugh at the expense of McCain's venerable career, it also functions as a pretty searing indictment of the hypocrisy of career politicians.
Watch the clip below, followed by one of the greatest hits from over 10 years ago:
Have a tip we should know? tips@mediaite.com