Jon Stewart Ridicules Obama Campaign: 'Let It Go' With The Big Bird Stuff Already!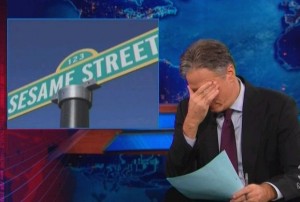 Jon Stewart hoped against hope that after a poor debate performance last week, President Obama would jump back into the same passion about important issues that he held in 2008. But Stewart immediately came to realize that the only thing the Democrats took out of the debate was: we are the party of Big Bird. Stewart groaned with every Obama campaign attempt to attack Mitt Romney over saying that he would cut government funding to PBS, referring to Sesame Street by name.
RELATED: Matt Lauer Scolds Robert Gibbs Over Big Bird Ad: Is This A Campaign With 'Ideas And Solutions On Its Side?'
Stewart described the last few days in the race as "The Great Muppet Caper," and while Obama was able to hit back effectively on the campaign trail, Stewart said it was an "excellent next-day comeback." Stewart also mocked Rachel Maddow touting that Obama won the "post-debate," suggesting that even if Obama loses the election, he could still win the "post-election."
But what Stewart couldn't figure out was why exactly the Obama campaign is trying to make Big Bird a campaign issue, with an entire ad devoted to the Sesame Street character. Stewart even ran a clip of John McCain laughing at the ad, telling Obama he managed to get John McCain "to laugh at you for using a cartoonish childlike figure" to win the campaign, with the immediate juxtaposition of… well, you know.
But what about when Obama spoke to a group of college students with Will.i.am in tow? No, the Big Bird battle did not stop there, it was played and even remixed by the rapper before the crowd. Stewart rather forcefully told the Obama campaign, "Let it go!"
Watch the video below, courtesy of Comedy Central:
—–
Follow Josh Feldman on Twitter: @feldmaniac
Have a tip we should know? tips@mediaite.com
Josh Feldman - Senior Editor