Jon Stewart Rips Apart GOP For Electing An All-White Group Of House Chairmen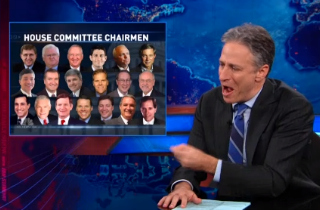 Despite the Republican Party's newfound desire to branch out its demographics and attempt to bring in more minorities and women under the big tent, Jon Stewart found ample reason to believe the party doesn't quite believe what they say.
After setting up that the GOP lost the election because of a variety of quotes that marginalized minorities and women voters, Stewart joked that the party "can't just throw in a free pedicure during every mandatory ultrasound and call it a day." They have to branch out, he said.
So what did they do? Stewart threw to an NBC clip of Brian Williams explaining that among the party's newly-elected group of House chairpersons, all are white males.
Stewart's studio audience booed. "Oh, I guess they all look alike to you, Williams," Stewart mockingly said. "Racist."
"I'll have you know there's a great deal of diversity and variety in that group," he said, pointing to three of the white congressmen who look similar. "These three gentlemen alone look like the kind of guys who would sell you three very different types of insurance," he joked.
He continued to mock all the clearly-white congressmen: "Look at this guy! Paul Ryan! That guy's got a widow's peak. That's weird. That's different. and that guy, sure, he looks like your average local news anchor. but that other guy near him looks like your average sports announcer. And the bland white guy with glasses? That guy's nearsighted but this other guy with glasses, that guy's got astigmatism."
Stewart then attempted to figure out the reason for this non-diversity. Turns out, the congressmen were selected based on seniority.
"So it's seniority?" he said. "Let me get this straight. The party that hates the teachers unions gives chairmanships based on tenure?"
But there was one person not a white male selected to a chair position: Rep. Candice Miller of Michigan. She will chair the House Administration Committee.
"She will be the chair of the House Administration Committee, whose responsibilities apparently range from 'making Congress more open and accessible' to 'ensuring the House runs efficiently and smoothly,'" Stewart read. "So we've got a woman to be… to coin a phrase… the housewife."
Watch below, via Comedy Central:
— —
>> Follow Andrew Kirell (@AndrewKirell) on Twitter
Have a tip we should know? tips@mediaite.com