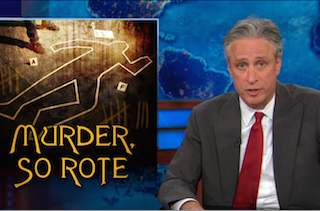 Jon Stewart returned from a week-long vacation Monday night to more news than he knew what to do with, from the resignation of VA Secretary Eric Shinseki to the marriage of Kanye West and Kim Kardashian. And, of course, another mass shooting, something Stewart said seems to happen every time his show is off for a week… and every time they're working. "Actually, it seems to happen every fucking week," he said.
To try to make sense of how America is dealing with these consistent tragedies, Stewart took a look back at how the media reacted to Columbine, Aurora, Newtown and other incidents. He marveled at how the media used to pretend that mass shootings like these could be stopped, but have now moved fully into "acceptance" mode. This new outlook was personified by Fox News' Bill O'Reilly who said last week, "No matter what society does, there will always be mass murder — always."
"It's like America has a dog that's always shitting in the house," Stewart analogized. "And we solved the problem by getting a brown rug." Instead, Stewart turned his attention to "the real victims," the media, who are "still going to have to waste valuable time going through the motions of covering these inevitable, clearly unstoppable, everyday, ordinary, soul-destroying slaughters." With help from his stable of correspondents, Stewart gave the media a tutorial on how to get "back to apathy as quickly as possible."
Notably, Stewart chose not to say the shooter's name on air or delve into his various manifestos, perhaps in attempt to deny him the notoriety he likely craved.
Watch video below, via Comedy Central:
[Photo via screengrab]
— —
>> Follow Matt Wilstein (@TheMattWilstein) on Twitter
Have a tip we should know? tips@mediaite.com