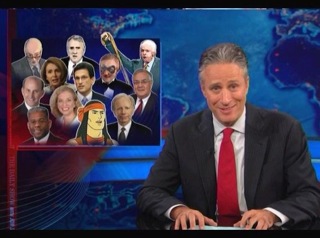 It seems no one is fully satisfied with the deal that last month's debt crisis finally carved out of Congress, with polls showing Americans feel Congress behaved like "spoiled children" and the deal with nothing short of "disgusting." On tonight's Daily Show, Jon Stewart took a closer look at the congressional "supercommittee" that is supposed to navigate the country out of this mess, and found the comic book heroes at least marginally underwhelming.
There was plenty to dislike about Congress, Stewart noted, beginning with a fairly hilarious speech by Senate Majority Leader Harry Reid on the Senate floor where he lamented that his pomegranate and fig trees back in Nevada were blooming without him. "What are you," Stewart shouted at him, "the Sultan of Reno?" Then there's the fact that the spending bill Congress fought so hard over didn't really reduce much of the debt at all, according to Diane Sawyer's "parallelogram of disappointment" (spending graph). Most of the work, Stewart noted, was being relegated to a "supercommittee." Who are these heroes that will save us from impending economic doom? Let Stewart's comic book show you.
There's "The Senator Drone," (Sen. Reid) who will "talk to you about things for a long time," "Professor Kvetch," (Sen. Charles Schumer) "drowning out opponents with his supersonic whine," and "Old-Man Man" (Sen. John McCain), who is mostly self-explanatory. "Will the Supercommittee save Congress from Congress' archenemy: the American people?" Stewart asked. Likely not, but hopefully someone will turn Stewart's idea into a brilliant animated Saturday morning cartoon series before America goes completely bankrupt.
The segment via Comedy Central below:
Have a tip we should know? tips@mediaite.com