Jon Stewart Rips Fox News For Saying Single Women Voted For Obama To Get Free Stuff
Stewart Rips Fox News For Saying Single Women Voted For Obama To Get Free S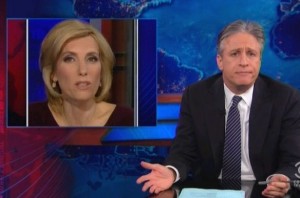 Jon Stewart reminded viewers tonight that last week's election was a bad one for the GOP, particularly among minority groups. But what interested Stewart was the big gap between married women, who overwhelmingly supported Mitt Romney, and single women, who overwhelmingly went for President Obama. Stewart brought on women's issues correspondent Kristen Schaal to explain the logic behind this and offer the GOP some advice for how to win single women.
Stewart threw out a challenge to see who could spin the news in "the most positive light you can." The main consensus among Fox News pundits, at least, is that married women are more concerned about their future and their children's future.
But what of single women voting overwhelmingly for Obama? Well, the faces of Fox chalked that up to abortion and wanting free birth control.
Stewart was then joined at the desk by Schaal, who helped explain how women made up their minds in the election. Schaal went out of her way to highlight her recent marriage, and while Stewart thought she looked like the same person, he couldn't have been more wrong.
Schaal explained that the second she tied the knot, she felt an explosion of "concern for America's future" inside of her, as opposed to single women, who "vote with their vaginas." Schaal explained that "all vaginas have a sacred, almost mystical function": attracting husbands, and married women don't use them anymore unless they happen to run into a four-star general.
Schaal gave the GOP some advice about how to reach out to single women: use sexual metaphors to describe every single one of their policies.
Watch the video below, courtesy of Comedy Central:
—–
Follow Josh Feldman on Twitter: @feldmaniac
Have a tip we should know? tips@mediaite.com
Josh Feldman - Senior Editor