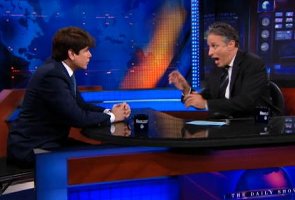 Jon Stewart had not-convicted-on-most-counts (yay?) Rod Blagojevich back on The Daily Show last night, and he had some questions – namely, why Blagojevich failed to live up to either claim he loudly made during his last appearance on the show. Blagojevich said his trial would bring: 1) Blago himself to the stand, where he'd mightily fight the charges against him; and 2) the release of audio tapes that would show some of his shadier-sounding comments weren't that bad. The trial, of course, gave us neither. Stewart wanted answers. He got Rod Blagojevich.
Stewart asked why, after Blagojevich was so gung-ho about testifying, he…didn't. Blago responded that it was a strategy, that his legal team didn't think the prosecution proved corruption so there was no use taking the stand. Stewart allowed this, but also noted that on charges Blagojevich sold a Senate seat, "That charge was 11-1 against you…you're hittin' .083 with the jurors." He also said when Blagojevich relentlessly talked up testifying before the trial, "That seemed like a principle, not a strategy." A fair point, one which – surprise! – Blago continued to talk circles around, saying it was a strategy.
Blago did say he looks forward to testifying at the next trial, and really clearing his name once and for all. We can't wait. And we looks forward to after that trial, when Blago will go on the Daily Show again and say he really can't wait to testify at the next next trial.
Then there was the matter of the infamous tape, where Blagojevich described the open Senate seat he held power over as "f—— golden." The first time he went on The Daily Show, he lamented the fact that no one could hear "what comes next" on the tape, as it would be yet more name-clearing evidence. Stewart showed what came next:
I mean, I've got this thing, and it's f—— golden. And I'm just not giving it up for f—— nothing. I'm not going to do it and I can always…use it and f—— parachute me there."
Needless to say, this is not name-clearing. However, if we agree with Blago the slightest bit in any area, it's here – Stewart only played the next small bit of the tape, not the entire thing. Stewart said that Blagojevich's mention of his state's Department of Health and Human Services was "not close" to when he mentioned his "f—— golden" Senate seat…but to Blago's very, very slight credit, that doesn't mean he never mentioned it at all. We don't doubt Blago perhaps didn't make quite as big a deal about improving his state as he said he did, but it does appear he mentioned it in some way, and we'd need to hear the full tape before dismissing it as another of his pathological lies.
But that still doesn't excuse him. Blago talked a big game and didn't deliver when he actually went on trial. And it surprised no one. At the very least, he shamelessly held a Senate seat over people's heads so he could get what he wanted. The man has no credibility. He is a national joke. And last night, he ultimately just left us wondering (again): how was this man ever the governor of an entire state? Stewart said to him: "You're a guy who's the most adamant about his innocence of anybody I ever met. You're either…the victim of a terrible persecution thing, or you're a sociopath." It's not hard to figure out which of those fits Blago better.
Video of both interview segments (uncensored, so NSFW) below.
Have a tip we should know? tips@mediaite.com