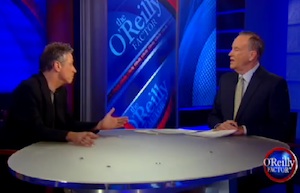 Last night Jon Stewart and Bill O'Reilly entertained America with a compelling debate that ostensibly focused on the White House performance of "controversial" rapper Common, but really was more about two competing world views. While Stewart taped the interview on The Factor set Monday, producers wisely held a second segment for tonight in which the two discussed the GOP presidential field and Stewart's assessment of the job done by President Obama thus far.
As we've mentioned before, the pairing of Stewart and O'Reilly creates such compelling television programming for a bunch of reasons: both have achieved almost cult status with their prospective audiences; both are willing to flaunt traditional political dogma to occasionally rail against political figures thought to be their prospective allies; and perhaps most importantly, they both seem to like and respect one another.
O'Reilly opened the segment by asking Stewart if there were any GOP political candidates that he could get behind. After some hemming, Stewart first name check former Minnesota Governor Tim Pawlenty as seeming like a "nice guy" before saying that Mitt Romney looked liked something one might pull out of a box labeled "president."
Looking for some "zazz" in the segment, host O'Reilly then asked Stewart to opine on Sarah Palin, to which Stewart appeared to somewhat recoil, adding "I am not a particular fan of her style of rhetoric," adding "I think she's too thin skinned." On Newt Gingrich, Stewart paused before saying "his head is large enough that you imagine that there are great ideas in there, but its so big its almost like they're free range ideas and I don't know if he can actually herd them and gather them." He later added that Gingrich lacks the charisma that one would expect from Obama, Bush, and yes, even Sarah Palin. As for Donald Trump? Stewart claimed "I could put another wing on that house" if he were to run.
O'Reilly ended by asking if President Obama had lived up to Stewart's expectations. The Daily Show host may have surprised some by saying that, no, but quickly hedged that response by admitting that his expectations might have been too high.
Watch the interview below, courtesy of Fox News:
Have a tip we should know? tips@mediaite.com
Colby Hall - Founding Editor