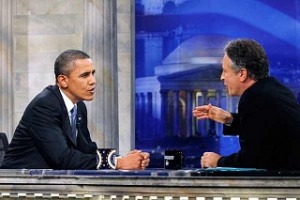 The host of Comedy Central's The Daily Show Jon Stewart secretly met with President Barack Obama at the White House on at least two occasions, which were followed with on-air attacks on Obama's political enemies.
Politico's Darren Samuelsohn wrote his paper's farewell to Stewart, who is set to retire from The Daily Show next Thursday. He notes that Stewart had an enormous effect on national politics, but sometimes "that effect took the form of either prodding, or working in concert with, the Obama administration."
Samuelsohn reports that Stewart visited the Oval Office in the fall of 2011 to privately meet with Obama, in the midst of heated budget negotiations. According to former Obama aide Austan Goolsbee, "the president wanted to counter his critics on the left and lay the groundwork for his 2012 re-election campaign."
In 2014, the president met with Stewart during the early days of the Ukraine crisis. Later that day, Obama announced that there would be harsh consequences for Russia if they continued their aggression towards Ukraine. In his first show after the meeting, Stewart– who had skewered the aggressive cowboy stances of George W. Bush during his presidency– ran an opening segment mocking… Vladimir Putin.
"In a segment titled 'It's a Vlad, Vlad, Vlad, Vlad World,' Stewart giggled as he displayed a picture of the shirtless Russian leader — 'Heil Titler,' he joked," reports Politico. "Then he showed a video of Vladimir Putin at the Winter Olympics in Sochi and wondered if he was 'even paying attention at the Olympics? … Or did you consider the parade of nations a browsing opportunity?'"
[Image via screengrab]
——
>>Follow Alex Griswold (@HashtagGriswold) on Twitter
Have a tip we should know? tips@mediaite.com