Stewart Settles New York-Chicago Pizza Feud Once and For All in Epic, Star-Studded Segment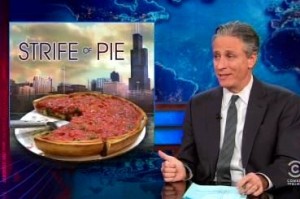 Last week, Jon Stewart trashed Chicago deep dish pizza like the true New Yorker he is, but on Wednesday night he had to eat crow… er, deep dish pizza and called a truce to the epic pizza war once and for all, with the help of a Chicago pizza owner, the magic of television, and, obviously, Steve Buscemi.
Stewart admitted he basically said deep dish pizza "tastes like a string cheese that had been baked for two hours inside of Mike Ditka's ass." He ran clip after clip of local Chicago news anchors trashing his "rant," as well as Rahm Emanuel sending boxes of deep dish to The Daily Show offices.
But Stewart refused to budge, and correspondent Jason Jones enlisted Buscemi, Matthew Broderick, and Michael Strahan to deliver a resounding message to Chicago: "Your pizza is edible, it's just not magic!"
But Stewart then actually brought the owner of a Chicago pizza restaurant into the studio and tried a slice, admitting that deep dish is very good. He called for a truce, adding that whatever people think of New York or Chicago pies, at least they're not the kind of "shit" California thinks passes for pizza.
Watch the video below, via Comedy Central:
Part 1:
Part 2:
Part 3:
[photo via screengrab]
— —
Follow Josh Feldman on Twitter: @feldmaniac
Have a tip we should know? tips@mediaite.com
Josh Feldman - Senior Editor