Jon Stewart Shreds Media Coverage Of 'Winners' And 'Losers' In Truly Unwinnable Israel-Gaza Conflict
Stewart Shreds Apart Media Coverage Of Truly Unwinnable Israel-Gaza Conflict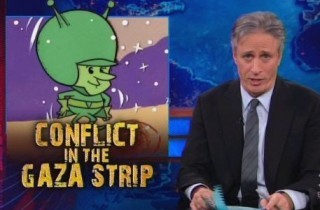 Tonight on the Daily Show, host Jon Stewart returned from his Thanksgiving break to rip apart the ongoing Israeli-Gaza conflict and the media's coverage of "winners" and "losers" in what he believes is truly an unwinnable conflict that dates back far too many centuries.
Stewart began by mocking Anderson Cooper's oddly "non-plussed" reaction to a bomb going off behind him during a live report from Gaza — "For God's sake, Anderson Cooper, do you have to run towards every single danger? Somebody get him out of there! Tell him there's a tornado headed towards a knife store or something," he joked.
He then recapped the conflict for his audience: "So the fighting began last week when Hamas launched hundreds of rockets at Israel which were, I guess, in retaliation for Israel killing the head of Hamas's military, which some way was actually a retaliation for Hamas holding an Israeli sollier hostage for five years, which might have been, I don't know, retaliation for Israeli settlement expansion, which was in retaliation from what I've heard," he quipped before cutting himself off, and saying: "You know what, let's go back to when this thing started," revealing the famous "dawn of man" scene from Stanley Kubrick's 2001: A Space Odyssey.
"Thankfully this skirmish ended before it could fulfill the Mayan 2012 prophecy," Stewart continued before mocking media reports that the ceasefire negotiations were tense: "You know you are in a difficult part of the world when even the peace negotiations are furious. 'I'll stop shooting!' 'No! I'll stop shooting!'"
"This is such a depressing, cyclical status quo where the untenable underlying conditions are never addressed," he lamented. "There are no winners here," he continued before cutting to a string of cable news pundits labeling various people — from Israel to Hamas to Hillary Clinton to Benjamin Netanyahu.
"You really miss the election, don't you?" he said of the media. "Did anybody lose this [bleep] thing? Did anybody lose? Did anybody actually lose in this bloody conflict that killed over 150 people?" he asked before cutting to more pundits saying that West Bank leader Mahmoud Abbas and Iran are the main "losers."
"So the only two losers in the war between Israel and Gaza are the people who don't live in either of those places," Stewart gleaned.
"So the lesson here is the next time your region descends into a war you have got to be in it to win it," he concluded.
Watch below, via Comedy Central:
— —
>> Follow Andrew Kirell (@AndrewKirell) on Twitter
Have a tip we should know? tips@mediaite.com