Jon Stewart Skewers Fox News And MSNBC For Skewed Coverage Of President Obama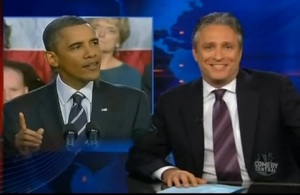 On Wednesday of this week, President Obama gave an impassioned speech on the economy that many saw as a kick-off to the looming mid-term elections. How did the President do? Well as Jon Stewart demonstrated last night on The Daily Show, it really depends on which cable news network you watched. Oh and he also mocked the President's evolving stance on bipartisanship for good measure.
The following segment from The Daily Show proves yet again, that its way more fun and interesting to cover the reporters, journalists and commentators of political news, than it is to actually cover political news. After pointing out how President Obama appears to have somewhat given up on his pledge to focus on the commonalities between political rivals, he then showed how the analysts at Fox News and MSNBC strangely had the opposite opinion of how the President did (one can guess how that specifically worked out.)
He then showed a clip of Sean Hannity clearly removing the context of a portion of the President's speech regarding increased tax rates in a pretty damning bit of commentary to the Fox News prime time host. The heart of Stewart's commentary can best be summed up as follows:
"Starting clips later and cutting them off before the speaker finished the thoughts full construction can be a useful tool in helping your audience understand what you want them to think. It's a fun and easy way to make people you disagree with say things that make them unelectable. Not that the Republicans need any help making themselves unelectable."
The coda to the segment? Mocking CNN's Rick Sanchez for his seeming school-girl crush on Twitter messages. Watch the clip below.
Have a tip we should know? tips@mediaite.com