Jon Stewart Slams Bachmann's Muslim Brotherhood Conspiracy By Creating His Own Conspiracy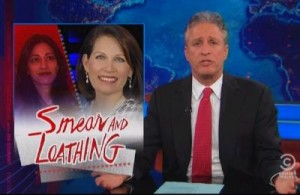 Jon Stewart tore into Congresswoman Michele Bachmann tonight for trying to connect State Department official Huma Abedin to the Muslim Brotherhood by mocking the web of conspiracy she was trying to weave, and then creating his own mind-blowing conspiracy in order to connect Bachmann to Islamic terrorists through international banks and pretzel companies.
RELATED: Fmr. Campaign Chief Ed Rollins Tears Into Bachmann For Clinton Aide/Muslim Brotherhood Remarks
Stewart opened the bit by noting that Abedin is married to Anthony Weiner, and remarked that it would be the perfect cover for someone with direct ties with the Muslim Brotherhood to pass a government background check, then "marr[y] a pro-Israel Jewish guy, and begins producing Muslim-Zionist terror baby armies."
But what of the web of conspiracy? Well, Stewart tried to keep track of it, remarking that the link between Abedin and the Muslim Brotherhood is basically "six degrees of people who don't eat bacon." He ran a clip of Bachmann striding down the halls of Congress trying to avoid answering questions from CNN, saying, "If she slows down too much, her mouth explodes with stupidity." Then Stewart explained how easy it would be to create a similarly ludicrous conspiracy connecting Bachmann to terrorism.
"The name Bachman is also the name of a company that makes pretzels. The very snack complicit in the failed 2002 assassination attempt on George W. Bush, when he choked on a Bachman pretzel. If that assassination had succeeded, it would have prevented Bush from invading Iraq and killing Sadaam Hussein, though, who unconnected to the 9/11 terrorists, went to war with a country whose border also touches the country the 9/11 attacks were launched from."
Stewart then realized there was a much simpler connection at hand: Bachmann has received money from HSBC, and a recent scandal emerged connecting HSBC to terrorism. "Maybe there should be an investigation," he remarked.
Watch the video below, courtesy of Comedy Central:
—–
Follow Josh Feldman on Twitter: @feldmaniac
Have a tip we should know? tips@mediaite.com
Josh Feldman - Senior Editor