Jon Stewart Slams GOP Candidates: 'How Do These F**king Crazy People Make It To The National Stage?'
Stewart: 'How Do These F**king Crazy People Make It To The National Stage?'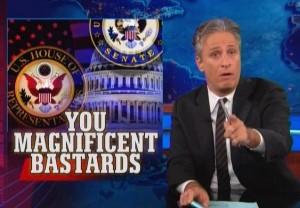 Jon Stewart shifted gears from covering the presidential race to looking at more local races, and what Republican candidates have been saying in their races. With Republican after Republican upping the ante on outrageous and borderline ridiculous statements, Stewart had to ask how "these fucking crazy people make it to the national stage" in the first place.
RELATED: Jon Stewart & Co. Mock Voter ID Laws Intended To Resolve 'Nonexistent' Problem
Stewart explained that whatever one may think of the men running for the presidency, they are at least the "cream of the crap" when compared to others in Washington. He started with Todd Akin, whom Stewart reminded viewers once waxed philosophical on the "vagina's magical powers." Akin has been widely condemned for his remarks, but Stewart highlighted a reverend who defended Akin and even went so far as to compare him to Jesus Christ.
The next Republican on Stewart's list? Allen West, running an attack ad bringing up his Democratic opponent's arrest in a bar fight many years ago. As Stewart noted, it's a choice between "an uncontrollable lunatic and the other got thrown out of a bar once."
Congressman Joe Walsh, meanwhile, has been attacking his opponent Tammy Duckworth for constantly bragging about her military service, which Stewart rebutted by bringing up none other than Allen touting his own military service. Stewart asked, "Can I be there when you tell Allen West he's not a true hero?"
Stewart also mocked Paul Broun, a Republican running unopposed who said evolution and the big bang are "lies from the pit of hell," and asked of him and his ilk, "How do these fucking crazy people make it to the national stage?" The answer: by being less crazy than local legislators, one of whom actually touted slavery as a positive for African Americans.
Watch the video below, courtesy of Comedy Central:
Have a tip we should know? tips@mediaite.com
Josh Feldman - Senior Editor