Jon Stewart Slams Senate Over Gun Control: 'We Have Literally Become One Of Our Own Worst Enemies'
Stewart Slams Senate Over Gun Control: 'We've Literally Become Our Own Worst Enemies'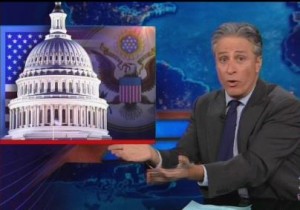 Jon Stewart welcomed the news of significant bipartisan gun control legislation coming out of the Senate, hoping "they finally invented a gun that kills other guns and won't fire if you're crazy!" But what happened instead was just a proposal by one Democrat and one Republican that will almost assuredly be changed significantly in the House. Stewart tore both the House and the Senate, the latter for rejecting a U.N. arms treaty that was also rejected by Syria, North Korea, and Iran.
RELATED: Stewart Rips GOP: 'They Hate The United Nations More Than They Like Helping People In Wheelchairs'
Stewart perked up upon hearing that the proposal announced by Joe Manchin and Pat Toomey would expand background checks to guns purchased on the internet. Stewart found it odd that buying guns online wouldn't already be a more rigorous process than having to register to access a porn site.
Stewart predicted that by the time the House gets around to the legislation, it'll be renamed the "Mandatory Gun and Grenade Ownership and Anti-Sharia Act of 2013."
Stewart then brought up how the Senate rejected the U.N. global arms treaty specifically designed to make sure all nations who sign on don't supply arms to criminals or terrorists. This move puzzled Stewart, mockingly asking, "if we don't preserve our right to give guns to terrorists, what are they going to fight us with?"
Stewart pointed out that the treaty reaffirms states' rights to regulate guns however they wish otherwise, likening the signing of a U.N. treaty to signing a communal get well card at work. And, on top of that, Stewart noted it's not like anyone listens to the U.N. all the time anyway. But perhaps the most damning fact of all was that the only other three nations to reject the treaty were Iran, North Korea, and Syria. Stewart declared, "We have literally become one of our own worst enemies."
Watch the video below, courtesy of Comedy Central:
—–
Follow Josh Feldman on Twitter: @feldmaniac
Have a tip we should know? tips@mediaite.com
Josh Feldman - Senior Editor