Jon Stewart Suggests Ron Paul Support War In Iran To Attract More Media Attention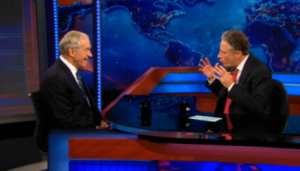 Congressman Ron Paul appeared on Monday night's Daily Show and talked with Jon Stewart about his campaign for the Republican nomination and his struggle to get media traction.
Stewart asked Paul what it was about his candidacy that made the media so quick to dismiss him and consider him unelectable.
Paul said the media was intimidated by his threat to the establishment, however he pointed out his enthusiastic group of supporters would be a great asset in getting his campaign off the ground. "I think we most likely are on the verge of an explosion of interest in this country," Paul said.
Stewart thought Paul's consistency has been a real problem for the media and he could improve his campaign by flip-flopping. "It seems like what gets a lot of attention is saying one thing a few years ago and then changing your position…I feel like when I watch the debates, a great deal of it is each candidate yelling at the other for things they used to say that they no longer believe in and during that whole conversation, they really don't look at you."
Stewart suggested that Paul come out in favor of war in Iran to give his campaign some buzz from reporters.
"And where would my supporters be?" Paul exclaimed. "They would be gone!"
Stewart gave Paul additional advice on how to get noticed by the media, proposing he grow a Chris Christie gut and adopt Sarah Palin's bus.
Watch the segment below, courtesy of Comedy Central:
Have a tip we should know? tips@mediaite.com