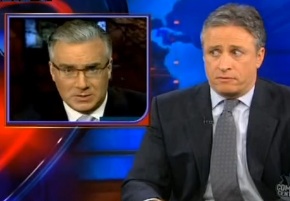 This is what happens when your late-night show tapes at 5 in the afternoon.
On last night's Daily Show, Jon Stewart took on Keith Olbermann's 3-day Scott-war against the newly-elected Republican Senator from Massachusetts, incinerating the Countdown host's Special Comment segment along the way. In a case of life imitating art, Olbermann parodied the Special Comment hours after Stewart taped his takedown, saying that yesterday's Supreme Court decision legalizing corporate campaign contributions was worse than the Dred Scott decision.
I'm sure we'll see more from Stewart next Monday, but for now, enjoy his absurd take on Keith's mannerisms, and note how familiar the first part of his bit sounds:
While Stewart misses the fact that Scott Brown did, in fact, disavow the curling iron remark, he also picked up on something that I missed: Olbermann's own hostile rhetoric toward women with whom he disagrees.
He also nails the camera changes, the repetition for dramatic effect, and the use of the glasses as a prop. I was a little disappointed he didn't go to a welder's mask or swim goggles.
As for last night's actual Special Comment, that's another story, one that I'm sure will be re-told "fundit"-style on tonight's Daily Show.
• Update: Olbermann reacts to Stewart's impression, in a response to TVNewser: "It was a little bit of a ripoff of the Affleck thing, but overall, I'd give it a B-." -SK
This isn't the first time Keith's Special Comment has been lampooned, but I think it's the best. Check out Ben Affleck's version, and decide for yourself whose is better:
Have a tip we should know? tips@mediaite.com