Jon Stewart Takes On Pope's Resignation, Mocks '007 Cardinals': They Could Star In 'Nopussy'
Stewart Takes On Pope's Resignation, Mocks '007 Cardinals': They Could Star In 'Nopussy'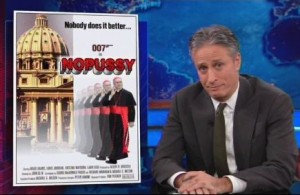 Jon Stewart tonight took on the latest issues the Catholic Church is facing over sexual abuse, and had some questions for the Vatican over this latest crisis. Where will the Pope go after resigning? How will this scandal affect the voting for his successor? And what does James Bond have to do with all this?
RELATED: 'Holy Quit!' The Daily Show Predicts Romney, Perry And Rubio As Pope Successors
Stewart reacted to the news of the Pope's impending resignation, predicting that once there is no one on earth who is the only infallible one on earth, the globe will descend into chaos. "Dogs fucking cats with condoms!" But as for what His Holiness will do after stepping down, Stewart had a hard time coming up with the right job for the soon to be ex-Pope.
Since the Pope's new home turns out to be right near St. Peter's Basilica, Stewart predicted he's just going to unexpectedly stop by to check on the new Pope and offer passive-aggressive words of encouragement to his successor.
Of course, a new Pope must be chosen, but the process might be slightly marred by all-new allegations of sexual abuse in the Catholic Church. And upon hearing that the Pope was giving a dossier by a group of men known as the "007 cardinals," Stewart couldn't resist having some fun imagining alternative Bond film titles, like "You Only Live Twice (Presuming You're The Lord And Savior Jesus Christ)" and "Nopussy."
Watch the video below, courtesy of Comedy Central:
—–
Follow Josh Feldman on Twitter: @feldmaniac
Have a tip we should know? [email protected]
---
Josh Feldman - Senior Editor