Jon Stewart Tears Apart Cable News Pundits For Pre-Election 'Musical Chairs' Game Of Predictions
Jon Stewart Tears Apart Cable News Pundits For 'Musical Chairs' Game Of Predictions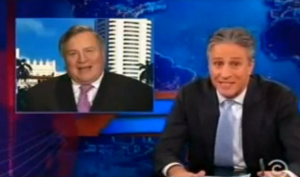 On Monday night, Jon Stewart began with a plea for the election to just be over already, later going on to look at the last-minute wave of punditry and predictions. Noting how pundits' tendency to just say whatever comes to mind, Stewart slammed the non-existent accountability surrounding their assertions.
TV pundits are scrambling to get in their final predictions, Stewart noted. Cue a montage of predictions from a variety of personalities, asserting every possible outcome. Romney will win big (or small). Obama will win (but maybe by very little). Or, it's simply too close to call.
"I don't think it's too close to call," CNN's David Gergen said in one clip. "It's impossible to call."
Impossible? Oh come on, Stewart said. Just open your mouth and guess. Everyone's doing it. For example, Newt Gingrich, who has continuously been making predictions based on his self-proclaimed "years and years of experience…"
"…of being wrong," Stewart added.
Soon enough, he said, we'll know which pundits were wrong, which were wronger. He then pointed to Dick Morris' remark that after election day, pundits will face reckoning. Stewart reminded viewers (much like Mediaite editor Andrew Kirell did recently) that pundits don't actually have to face any accountability.
"You're pundits!" Stewart said. "You live in a reckoning-free zone. One thing we learned is that punditry is like musical chairs. The only difference is, in musical chairs, when the music stops, nobody ever moves the chair. They just keep adding more chairs."
Take a look, via Comedy Central:

Have a tip we should know? tips@mediaite.com