Jon Stewart Tears Apart CNN: Neither Left Nor Right, But On A 'Steady Spiral Downward'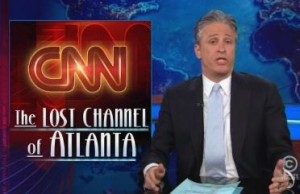 Jon Stewart took a break from politics to dish out a little media criticism tonight aimed squarely at CNN. The network has undergone a couple of changes recently, and the end result has been nothing if not.. unique. Stewart mocked the network's seemingly new approach to news, its attempt to explain complex policy issues to people with over-the-top graphics, and just blatantly ripping off The View.
Stewart first took Fox News to task for ginning up political controversy in the case of the fired Rutgers basketball coach and, in particular, Sean Hannity for just brazenly admitting on the air he was beaten as a child and how he turned out fine. Stewart quipped, "Have you seen your show? Because it seems like the show of a guy who was hit with a belt as a child."
Stewart then turned to CNN, a network that is neither leaning left nor right, but is instead on a "steady spiral downward." He took on the new approach of CNN executive Jeff Zucker to the news, mockingly saying things like "I love brunch! Who doesn't love brunch? That's news!"
Stewart brought up some graphic faux pas of CNN, including (for some reason) a CNN personality standing in the middle of a virtual field of goats. And most egregiously of all, CNN showed off a live recreation of the Jodi Arias crime scene, complete with dead boyfriend in a pool of blood on the floor.
Of course, new changes don't come without new show experiments, and following the success of The Five and The Cycle, CNN is testing out a new primetime show called (Get To) The Point. Stewart figured CNN must have "mistook what people are constantly yelling" at the screen for a show pitch. He showed clips of the show's hosts talking about important subjects like lizard people and vegetarians who eat bacon.
What Stewart loved the most about the show was that when promos for this new program appear on the screen during other CNN shows, it looks like a subtle jab at whoever's talking to get to the damn point already.
Watch the segment below, courtesy of Comedy Central:
—–
Follow Josh Feldman on Twitter: @feldmaniac
Have a tip we should know? tips@mediaite.com
Josh Feldman - Senior Editor