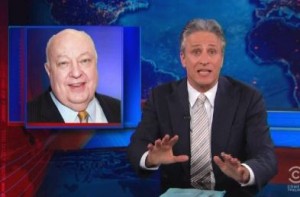 Jon Stewart devoted part of a segment on Tuesday night to, well, himself. He took aim at Fox News head Roger Ailes saying he recalled a conversation they had at a bar, in which Stewart confessed he's basically a socialist. Well, Stewart said, Ailes had a confession of his own agenda. He then went on to clarify what he really meant.
RELATED: Roger Ailes: Jon Stewart 'Basically Has Admitted To Me, In A Bar, That He's A Socialist'
Stewart flashed back to where he and Ailes met. A clip of the two at The Spank Lounge, with a scantily clad Ailes chatting with Stewart, donning overalls obviously.
On a somewhat more serious note, Stewart noted that Ailes never mentioned what he admitted. Which is that he plans "to undermine the role of an independent press while constantly whining that any reportage that deviates from a staunch conservative narrative is biased … while at the same time filling the editorial vacuum that that creates by filling the propaganda juggernaut from under the guise of a news organization." And that organization, he told Stewart, would be called Fox News.
And then there's the 2000 clip of Stewart's (gasp) socialist confession. Stewart took a stab at what he thinks he meant back then. "I don't believe in state-controlled industry," he said, but "there is value in some policies that derive from a more socialist ethos." He then used Republicans' words against them, citing programs they've spoken supportively about. Like Social Security (a la Romney) and Medicare (a la Sarah Palin).
Stewart added he used the term socialist before President Obama ruined it for us all. Now it's become the worst label to attach to a person, he said, adding, it's like if the c-word and the n-word had a baby…named ObamaCare.
Take a look, via Comedy Central:
Part 1:
Part 2:
Part 3:
Editor's note: This post has been edited since its original posting – Jon Nicosia
Have a tip we should know? tips@mediaite.com