Jon Stewart Tears Apart House GOP Over Sandy Aid: If You Can't Vote For This, 'Then We're F*cked'
Stewart Tears Apart GOP Over Sandy Aid: If You Can't Vote For This, 'Then We're F*cked'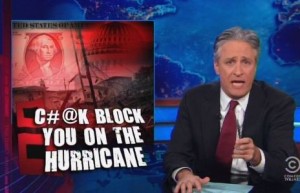 Jon Stewart used his first show of 2013 to tear into House Republicans for the rather notable opposition to the Hurricane Sandy relief bill passed in the Senate. Stewart called them "assholes" and their reasoning "bullshit," as well as mocking the idea that there was so much pork in the bill many Republicans couldn't bring themselves to vote for it.
RELATED: Martin Bashir Busts Paul Ryan For Voting 'No' On Hurricane Sandy Aid But Yes On Midwest Flood Aid
Stewart compared the natural disaster of Sandy to the human disaster of the House GOP, highlighting how Congress left for the night last week before voting on the relief bill. He credited the Republican voices of outrage, including Chris Christie and Peter King, for getting results and forcing the GOP to hold the vote.
However, the House has only so far approved $9 billion of the $60 billion relief bill, and will take up the rest of it next week, because as Stewart put it, "what's another week when you've been fucked for months?" He scolded the sixty-seven House Republicans who voted against the bill and wondered why they would vote against the bill, asking, "What would Jesus, or any other human being that isn't an asshole, do?"
As for the argument that the bill was loaded with pork, Stewart shot back by saying that there were only two such paragraphs in the entire bill, about as much pork as in a PETA staff fridge. He said their reasoning was "bullshit," and in particular called out a Mississippi Republican for voting against the bill while also, last year, requesting money for the national flood insurance program this past year for his constituents.
Stewart ended by laying it on the line for the GOP.
"If you guys can't vote for this, then we're fucked for the next few years. And I'm not saying you're responsible for all the problems facing our country, but you sure are making them a lot harder to fix."
Watch the video below, courtesy of Comedy Central:
—–
Follow Josh Feldman on Twitter: @feldmaniac
Have a tip we should know? tips@mediaite.com
Josh Feldman - Senior Editor