Jon Stewart Tears Apart Obama, DOJ For Prosecuting Whistleblowers And Potheads But Not Bankers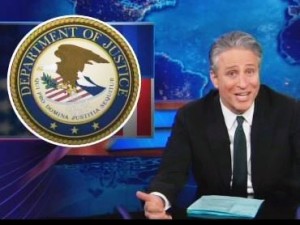 Jon Stewart tonight used President Obama's big national security speech to go after the president and the Department of Justice for going after whistleblowers, journalists, hackers, potheads, et cetera, but not sending even one person involved in the financial crisis to prison. Stewart mocked the administration for targeting Fox News' James Rosen and giving people "unusually harsh punishments" disproportionate to their crimes.
Stewart went down the list of everything Obama has said is important in a democratic society: freedom of the press, government accountability, transparency, and the rule of law. But the Obama administration has prosecuted more whistleblowers than any other in history, leading Stewart to remark, "They believe in freedom of the press, just not freedom of speech for people who might talk to the press"
Except for that whole seizing-the-phone-records-of-journalists thing. Stewart mockingly defended this as them exercising fairness, for "If you're going to go after whistleblowers, you've also got to go after those who have had their whistles blown." He mocked the DOJ going after James Rosen for a scoop on North Korea responding to sanctions with more nuclear tests, since North Korea is generally in the business of threatening more nuclear tests.
Stewart wondered what other possible scoops Rosen could have that the government feels threatened by. "Babies make terrible sous chefs!" "Jon Stewart is Jewish!"
After running clips showing how the feds are cracking down hard on potheads and hackers, Stewart said, "Basically, if you could be played in a movie by Kevin Smith, the feds would like a word with you." He noticed that the White House's priorities seem to be tilted toward "unusually harsh punishments for individuals whose crimes don't really seem to merit them."
Except where Wall Street is concerned. Stewart was baffled at how despite the government having evidence of serious banking misconduct, not a single person involved in the financial crisis has gone to prison. He wryly asked, "What, none of them bought pot?"
Watch the video below, courtesy of Comedy Central:
—–
Follow Josh Feldman on Twitter: @feldmaniac
Have a tip we should know? tips@mediaite.com
Josh Feldman - Senior Editor