Stewart Tears Apart RNC For Basing Entire First Night Around Misquoting Obama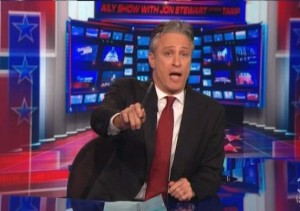 Jon Stewart opened night two of The Daily Show's RNC convention coverage by tearing into Republicans for making "We Built It" the theme the main focus of their speeches last night. Stewart pointed out that President Obama's "you didn't build that" comment has been grossly taken out of context and called out the disingenuousness of the GOP exploiting it as an applause line and campaign slogan.
RELATED: Jon Stewart Rails Against GOP And Fox News For 'Willful, Out-Of-Context' Attacks On Obama
After a brief aside to joke about the media coverage of Hurricane Isaac (and a not-so-subtle slam on Piers Morgan), Stewart turned back to festivities in the "Corporations Are People's Republic of Tampa." He contrasted Ann Romney trying to get America to fall in love with her husband with literally every other speaker trying to get America to fall out of love with Obama. Stewart slammed RNC Chairman Reince Priebus as sounding like an "angry drunk guy" and mocked the speakers' attempts to out-"humble background" each other in their speeches.
Stewart also noticed that everyone at the convention, including the cheering delegates, was pushing the "we built it" narrative, which he described as a "peculiar mix of braggadocio and whiny petulance" on par with Charlie Sheen's "winning!". More importantly, Stewart pointed out that Obama's initial comment has been taken out of context an unbelievable number of times by Republicans, culminating in a country song last night literally called "I Built It."
Stewart joked that the only logical conclusion of franchising "We Built It" would be a "free-market breakfast cereal" called "We Built Thatz" with copious amounts of rat feces in every box. After a quick appearance by correspondent Aasif Mandvi, Stewart played a little game of call-and-response with the RNC crowd, slamming "We Built It" as "a convention theme at a political campaign cynically based around something the president never actually said."
Watch the segment below, courtesy of Comedy Central:
—–
Follow Josh Feldman on Twitter: @feldmaniac
Have a tip we should know? tips@mediaite.com
Josh Feldman - Senior Editor