Jon Stewart Tears Into Fox News And Bill O'Reilly For Outrage Over The War On Christmas™
Stewart Tears Into Fox And O'Reilly For Outrage Over The War On Christmas™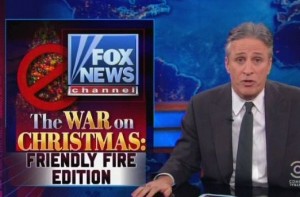 Jon Stewart helped Fox News get an early start on its war on the War on Christmas tonight. Though as Stewart sadly observed, Fox's annual battle to save Christmas have "become a little predictable" to the point where all you need is a book of Mad Libs and a bunch of religious buzzwords to set them off into a Christmas feeding frenzy.
RELATED: Fox & Friends Gets Schooled By A Priest: 'You Guys Look So Angry About This War On Christmas'
Stewart mockingly said that Christmas is so weakened and "defended only by the brave souls at Fox News." But after years of ripping Fox for cherry-picking a few isolated instances of atheists getting nativity scenes taken down, Stewart couldn't even get excited enough this time. Though he did find a good opportunity to reassure Gretchen Carlson's doubts that she might be "nuts" for thinking there is a war on Christmas.
Christmas is clearly alive and well in America. Stewart pointed out that even in New York City, one of the most "godless, secular, gay, Jewy, and hellbound" cities in the nation, is decorated as if "Santa's balls exploded" all over Manhattan. And with Black Friday sales being pushed back to Thursday nights (a.k.a. Thanksgiving), "Christmas is so big now, it's eating other holidays."
Stewart pointed to all the stores that sell only Christmas items and all those damn Christmas specials you see on TV. There is even a Flintstones Christmas special. Yes, Stewart said, "there's a Christmas special celebrating Jesus' birth thousands of years before the birth of Jesus."
Of course, it wouldn't be a true War on Christmas without the input of ol' Bill O'Reilly, who has been bizarrely insisting that Christianity is not a religion, but a philosophy. Stewart patiently tried to explain to O'Reilly why Jesus is not the same as Plato or Socrates, adding that while he personally enjoys the philosophy of Jesus, he probably wouldn't be invited into the Christian club.
Watch the video below, courtesy of Comedy Central:
Part 1:
Part 2:
—–
Follow Josh Feldman on Twitter: @feldmaniac
Have a tip we should know? tips@mediaite.com
Josh Feldman - Senior Editor