Jon Stewart Mocks John McCain & Lindsay Graham For Hypocritical Outrage Over Susan Rice
Stewart Mocks McCain & Lindsay Graham For Hypocritical Outrage Over Susan Rice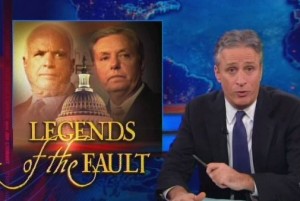 Jon Stewart tonight focused on the spotlight currently surrounding U.N. ambassador Susan Rice and the growing opposition to her potential nomination to become the next secretary of state. Stewart acknowledged there were legitimate national security issues involved in the attacks on the U.S. consulate in Benghazi that were subsequently "thrown out" and replaced with a bunch of political rhetoric.

RELATED: Judge Napolitano And Jon Stewart Take On Benghazi, Petraeus, Immigration, And The Role Of Government
Stewart reminded viewers that in the immediate aftermath of the attacks in Libya, Rice went on TV and said they were not pre-meditated, and in were response to an anti-Islamic film. Well, Stewart admitted, we know now the consulate was not targeted by "angry film critics."
Stewart then turned to the criticisms being leveled at Rice by John McCain and Lindsay Graham, the loudest critics of Rice so far. Stewart couldn't help but think the two of them, of all people, shouldn't get to be "self-righteously angry" about Rice considering they both rang the alarm bells over bin Laden and Iraq early on in 2001 and 2002.
But it just so happens that McCain and Graham have not always been so skeptical of black, female White House officials who go on TV and share potentially misleading intelligence and whose last name happens to be Rice. Condoleezza Rice was defended by both McCain and Graham, despite previous comments about WMDs in Iraq that "she knew… was bullshit."
Of course, Stewart also managed to find some comedy in the reaction to McCain and Graham's crusade, doing a full-on mockery of the Congressional Black Caucus for the press conference in which McCain and Graham were accused of singling out Rice for being a black woman, complete with a posse of Daily Show correspondents behind the desk to preach alongside him.
Watch the video below, courtesy of Comedy Central:
Part 1:
Part 2:
—–
Follow Josh Feldman on Twitter: @feldmaniac
Have a tip we should know? tips@mediaite.com
Josh Feldman - Senior Editor