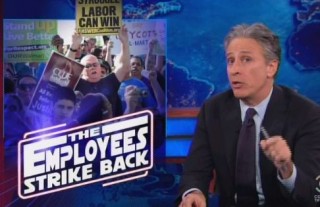 On his Daily Show last night, Jon Stewart took on Black Friday media coverage and the anti-Walmart union rallies that ensued.
Stewart mocked the media's astonished reactions to the union walk-outs, pointing out that the workers should be grateful they get to work at Walmart on Thanksgiving. He also joked that the protesters don't realize they have it easy compared to the garment workers who died in a fire at a Bangladeshi factory… which manufactures in part for Walmart.
"See? Wah, wah, wah. I work at Walmart in the United States and I can't afford to take my kids to the doctor. Well at least there are exits!" Stewart said mockingly, before pointing out that at least Walmart will suffer for the factory fire… with the best Black Friday sales they've ever experienced.
Stewart also went after Fox Business personality Charles Payne for diminishing the lives lost in the factory fire "in order to score cheap points against American unions." Stewart boiled down Payne's argument to: "Okay, they burned in a fire, but at least they had jobs!"
The comedian then went after the media's coverage of the ongoing Hostess debacle, in which untenable negotiations between the company's owners and its unionized workers has resulted in the company going to bankruptcy court.
"Oh no! Where will I go for stomach aches and self-medication?" Stewart joked about the media's mournful reaction. "What could have destroyed America's diabetes dispensary?" he joked before running a smash-cut of pundits blaming the unions.
Stewart explored other possible explanations for the company's woes by showing that the company has gone through a long period of "uncertainty" by changing CEOs seven times in recent years.
Another possible explanation: Moms and their damn swapping out fatty treats for low-fat alternatives.
Watch below, via Comedy Central:
Part 1:
Part 2:
Have a tip we should know? tips@mediaite.com