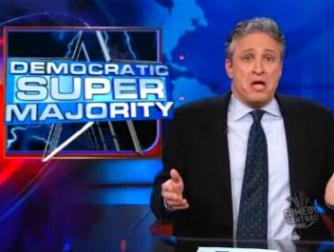 If the Republican party wants to take a major chunk of seats in 2010 from the Democratic majority, maybe listening to Rush Limbaugh (the de factor head of the Republican Party) isn't a good idea. And Michael Steele – the actual head of the Republican party – hasn't exactly excited the masses. Hannity? Beck?
How about Jon Stewart. The Daily Show host delivered a crushing critique of the Democrats ineffectiveness last night.
Of course he is Jon Stewart, so there's a healthy dose of Republican shots taken in the segment as well. But the bottom line: "They're countering your arguments with nonsense, and crushing you."
One of the big qualms from Stewart is the language used. Playing a clip of Frank Luntz explaining the country's overwhelming support for the phrase "public option" over other possible titles, he ran a series of clips showing how far the Dems have gone to dilute and change it. "Let's give everyone in this country 'Aids'. What's wrong?" joked Stewart of the new Democratic term for it.
The other big issue is what they have actually accomplished in the health care debate – getting abstinence-only education passed. Sounds a lot like '01-'08 still, despite the "super majority."
But Stewart saved his most pointed critique for his home Senator. He played ta clip of Sen. Chuck Schumer Tuesday saying, "We're feeling good. All of us are pleasantly surprised that we're making progress." Stewart's answer? "Well than you're a f–king idiot."
What do you think GOP – your next great attack ad? Even Jon Stewart thinks the Democrats are ineffective. The script just wrote itself…
Here's the segment:
—–
» Follow Steve Krakauer on Twitter
Have a tip we should know? tips@mediaite.com