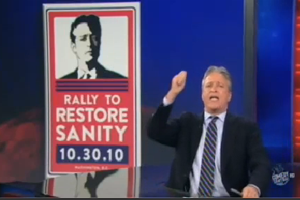 Imitation is the sincerest form of flattery– or at least that's what Glenn Beck will be hoping for when he hears this news. Tonight, Jon Stewart announced the "Rally to Restore Sanity": a march on Washington for people who have better things to do than march on Washington. Naturally, Stewart's rally will have competition: the "March to Keep Fear Alive," led by Stephen Colbert.
So who is invited to this march? According to the website, anyone who would otherwise not attend rallies on principle:
We're looking for the people who think shouting is annoying, counterproductive, and terrible for your throat; who feel that the loudest voices shouldn't be the only ones that get heard; and who believe that the only time it's appropriate to draw a Hitler mustache on someone is when that person is actually Hitler. Or Charlie Chaplin in certain roles.

Are you one of those people? Excellent. Then we'd like you to join us in Washington, DC on October 30 — a date of no significance whatsoever — at the Daily Show's "Rally to Restore Sanity." Ours is a rally for the people who've been too busy to go to rallies, who actually have lives and families and jobs (or are looking for jobs) — not so much the Silent Majority as the Busy Majority. If we had to sum up the political view of our participants in a single sentence… we couldn't. That's sort of the point.
Stewart gave a bit more detail on tonight's Daily Show, where he explained the significance of the date ("The Daily Show will be in Washington that week doing shows anyway") and showed off some protest signs that his crew will give out to rally-goers, who he expects will be too busy to make their own.
Watch Stewart's announcement on tonight's Daily Show below:

Have a tip we should know? tips@mediaite.com