Jon Stewart Trashes MSNBC & Fox News' Election Coverage… But Saves Best Attacks For CNN
Stewart Trashes MSNBC & Fox News' Election Coverage… But Saves Best Attacks For CNN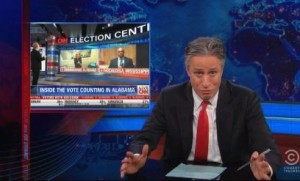 Where there's a primary, there's media coverage of said primary. And where there's important media coverage, Jon Stewart is there to point out just how ridiculous it is. And last night's coverage of the GOP primaries was no exception. Stewart had some fun with all three major cable networks for how they chose to cover the primaries, whether it was through sexual innuendo, completely obsessive up-to-the-minute coverage, or just ignoring them for regularly scheduled programming.
RELATED: MSNBC's Election A-Team: 'Nothing More Uncomfortable For Santorum Than Being In A Three-Way'
Stewart marveled at how much MSNBC personalities seemed to be yukking it up joking that Rick Santorum is stuck in a three-way despite never wanting to actually be part of one. But what of Fox News and its decision to keep going with regularly scheduled programming over up-to-the-minute primary results? Stewart used some disturbing video editing to compare Fox pundits to crying babies.
But it was CNN who got the brunt of Stewart's wisecracks for their dedication to getting the numbers LITERALLY as soon as they came in BEFORE ANYONE ELSE by having reporters LINGER AROUND BALLOT COUNTERS LIKE CREEPERS. But the truly "insane" part of CNN's overcoverage was that as close as they were following the numbers, CNN was trumped in the media race to call a victor by Fox News, which was mostly ignoring the race.
But following the moment when Santorum found out during his speech that he got his second victory of the night and gave his wife a quick kiss, CNN reminded viewers that they still couldn't make a projection. Stewart pretty much blew up at CNN for deciding to back off towards the end.
"Now you decide to get cautious? The candidate is making out with his wife, for God's sakes!"
RELATED: Another Election, Another Segment Of 'Jon Stewart Ruthlessly Mocks CNN's Election Coverage'
Watch the full segment below, courtesy of Comedy Central:
Have a tip we should know? tips@mediaite.com
Josh Feldman - Senior Editor