Jon Stewart Trashes NRA: They Must Be A Michael Moore-Run Covert Op To Make Gun Owners Look Stupid
Stewart Rips NRA: Must Be Michael Moore-Run Group To Make Gun Owners Look Stupid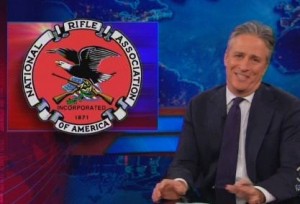 Jon Stewart spent the first segment of his show focusing on the National Rifle Association's intensive lobbying against any attempts at gun control in the wake of President Obama's announced executive orders. Stewart said the NRA can't possibly be serious, so either it's an elaborate piece of performance art or a covert operation run by Michael Moore.
RELATED: NRA: Those Who Think New Ad Is About First Daughters Are 'Missing The Point Completely'
Stewart mocked the NRA ad calling out Obama for hypocrisy due to his kids having security guards, adding to their concerns "Why does he get to veto bills and command an army when we don't?" He credited the organization for giving the national conversation on guns a "deplorable start," surmising that the organization is either Joaquin Phoenix-esque performance art or a Michael Moore-run covert operation to make gun owners look stupid.
Stewart contrasted Obama's measured response to the NRA ad with what he should have said: "if you bring up my kids again, I will drone strike you to kingdom come."
Despite the fact that Obama supports the same school security plan the NRA wanted, his announcement was widely panned by the pro-gun crowd. In particular, Stewart highlighted one former Republican congressman named Todd Tiahrt saying that the nation already has the Bureau of Alcohol, Tobacco, and Firearms to go after criminals.
Stewart went through all the reasons why this was an absurd statement, from the fact that the Senate hasn't approved a director in six years, the fact that the current acting director has another job and running the ATF is just a "side gig," and how the ATF is prohibited from creating a federal registry to track gun sales. Stewart asked incredulously, "was it getting too easy to police illegal guns?"
And which Republican congressman pushed for an amendment to strip the ATF of the powers the NRA would like it to have? None other than Todd Tiahrt. Stewart remarked that his amendment "couldn't be worse if the NRA wrote it themselves." Well, guess what.
Watch the video below in two parts, courtesy of Comedy Central:
And part two:
—–
Follow Josh Feldman on Twitter: @feldmaniac
Have a tip we should know? tips@mediaite.com
Josh Feldman - Senior Editor