Jon Stewart Trashes Paul Ryan For Entitlement Hypocrisy, 'Makers Vs. Takers'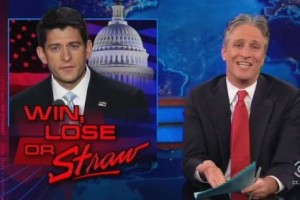 In his inaugural address on Monday, President Obama went into what Jon Stewart described tonight as an "unapologetic defense of the social safety net," specifically a line pushing back against the "makers vs. takers" mentality. Stewart focused on the criticisms of former Republican vice presidential candidate Paul Ryan for calling Obama's argument a "straw man," running a series of videos with Ryan making the same "makers vs. takers" argument.
Stewart first pushed back against Ryan saying Obama used a "straw man" as a rhetorical device, pointing out that Obama was just using Ryan's own words against him, so perhaps the better term is "passive aggression."
Stewart ran clip after clip of Ryan using the same "makers vs. takers" line Obama pushed back against. Of course, Ryan clarified that he doesn't mean "earned entitlements" put you in the taker category. Or as Stewart phrased it, he doesn't mean "sweet ol' grams, you mean Hobo Joe."
Stewart pointed out that Ryan has included said earned entitlement recipients in his definition of who the "takers" are, and if the takers were only welfare recipients, that would only count for two percent of the public. Stewart wryly remarked that no politician has ever gotten elected attacking such a small segment of the American public, immediately followed by a picture of a victorious Obama.
Stewart asked, "What is the danger of receiving some help from the government when you need it?" He highlighted Ryan's own success story and how his tale of government aid helping his life mirrored what Obama said in his inaugural. Stewart concluded, then, that the only rhetorical device Obama is guilty of using is plagarism.
Watch the video below, courtesy of Comedy Central:
—–
Follow Josh Feldman on Twitter: @feldmaniac
Have a tip we should know? tips@mediaite.com
Josh Feldman - Senior Editor