Stewart Tries To Cover Inauguration, But All Anyone Wants To Talk About Is Michelle Obama's Bangs
Stewart Tries To Cover Inauguration, But All Anyone Talks About Is Michelle's Bangs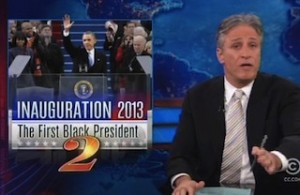 Jon Stewart began tonight's episode of The Daily Show by covering what obviously the biggest story of the day: Michelle Obama's bangs.
Getting that out of the way, Stewart moved on to President Obama's second inauguration. He began by flashing back to the 2009 ceremony when the president and Chief Justice John Roberts famously flubbed the oath of office. He showed a clip this year's version, in which Obama again had a small flub on the word "States" and imagined Mitt Romney's reaction. "I guarantee you that's one of the first times a devout Mormon has ever used the phrase 'Oh, for fuck's sake.'"
Stewart previewed Obama's speech by saying, "and just as feared, the President came out as a liberal." After playing some of the more progressive moments, Stewart added, "and just to make this clear, my health plan is designed to kill your white grandparents."
Following the First Lady's trend, correspondents Jessica Williams and Al Madrigal all appeared with fashionable new "b-b-b-b-bangs." And Jason Jones, covering the inauguration from the conservative side, rocked his best Nancy Reagan bob. When he criticized the First Lady's new look, Al Madrigal got a bit defensive.
Describing his relationship with Michelle Obama, Madrigal said he talks to her all the time. "On the phone, Facebook. We've been close for three years after meeting on Twitter." This of course led to the realization that he may have fallen prey to a Manti Te'o-style hoax. "I got Tuiasosopo'd?!"
Watch video below in two parts, via Comedy Central:
Part two:
—
>> Follow Matt Wilstein (@TheMattWilstein) on Twitter
Have a tip we should know? [email protected]