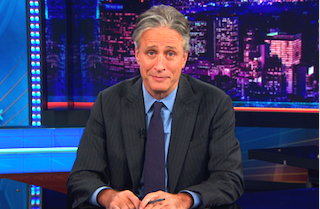 When Fresh Air host Terry Gross interviewed Jon Stewart about his new film Rosewater, opening in theaters this week, she was wise enough not to ask whether he will be renewing his contract after it expires at the end of next year. But she did want to know about his internal conflict over the decision to keep the Daily Show institution going or branch out into potentially more risky pursuits. To help her understand his thinking, Stewart turned to an elaborate Seinfeld analogy.
After Gross admitted that she personally would hate to see him leave his Comedy Central chair, Stewart thanked her and said he acknowledges that there will never be anything that he is "as well suited for" as hosting The Daily Show. "That being said, I think there are moments when you realize that that's not enough anymore, or maybe it's time for some discomfort," he said.
Stewart added that he is just as proud of some of the work the show has put out recently as anything they have done in the program's history. "The minute I say I'm not going to do it anymore, I will miss it like crazy and I will consider that to be a terrible mistake I just made and I will want to grab it back," he said.
Then, acknowledging the cliché nature of what he was about to say, Stewart brought it back to Seinfeld. As he explained, George Constanza broke up with Susan, and then decided he was going to ask her to marry him. "And he was all excited and he did it and she took him back," he said. "And there's that scene of him walking up the stairs with her to the apartment and the minute he starts walking up the stairs he goes, 'What have I done?'"
"That's what you're trying to balance," he said of his current position.
Listen to audio below, via NPR:
You can hear the full interview at npr.org.
[Photo via screengrab]
— —
>> Follow Matt Wilstein (@TheMattWilstein) on Twitter
Have a tip we should know? tips@mediaite.com