Jon Stewart v. Fox Round 3: Stewart Plays His Own Offensive Accent Highlight Reel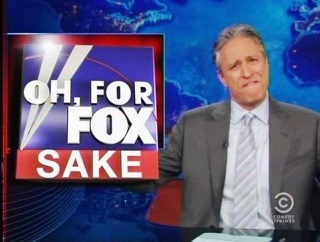 Wow. Fox News has really gotten to Jon Stewart. After two weeks of animosity beginning with his interview with Chris Wallace and most recently culminating in last night's rant against Wallace's rebuttal on Sunday, Stewart took to the airwaves with a new target in mind: Herman Cain, who took shots at Stewart's "Amos and Andy impression." Stewart's response was a classic reversion to "I'm just a comedian" form: a highlight reel of his most offensive impressions.
Stewart began with an update on his fight with Fox News, including today's coverage on the network asking viewers whether the politically-irrelevant, not-at-all-an-activist humble comedian was "racist," but mostly showing clips from Sunday's one episode of Fox News Watch and advertisements or clips from last night's The O'Reilly Factor, where Cain was a guest. Stewart interpreted this as a network-to-network call to arms, and made a futile attempt to get the strongest people on Comedy Central to back him up (alas, Krod Mandoon was canceled a long time ago).
That left Stewart out to defend himself from the claims, especially from Cain, that he was attacking him "not because I always use offensive caricatured voices, but… because Herman Cain is black and conservative." He did not particularly address whether his accent was racist or not, or whether there was a legitimate possibility that Cain was offended– after all, the segment was, to Stewart, about Fox News, not about the person offended by his joke who happened to be interviewed by Fox News.
Instead, he took the thoroughly unsurprising angle of using his career as a comedian as a shield against any possible impropriety. Noting that some on Fox argued that anyone mimicking Cain with an accent similar to the one Stewart pulled off, he quipped, "I did get into that story using a wheel with a dildo on it, which likely would've gotten them fired as well." Since the best defense is always a good offense, he then turned his team on himself to find even more offensive accents to add to the collection that may upset Fox News, and titillate headline writers: "Prepare for tomorrow's Huffington Post headline: 'Stewart Eviscerates Stewart.'" Then behold: a highlight reel of offensive Stewart accent moments.
The segment via Comedy Central below:
Have a tip we should know? tips@mediaite.com