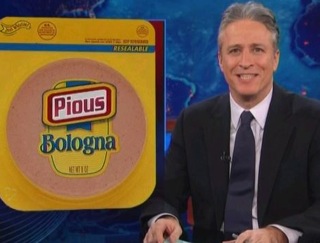 Jon Stewart came into the office this Monday with four hours of Republicans shouting at each other to wade through, and the analysis of cable news pundits thereafter, given Saturday night's Republican debate and the fact that Republicans "inexplicably reassembled at 9 AM for another debate." There was much to talk about in these debates! Like what the candidates would be doing on Saturday night, and the fatherly advice of relatable Gov. George Romney to his son.
RELATED: Watch This Morning's NBC/Facebook GOP Debate Here
Joking that the endless cycle of debates was so long "they're out of things to talk about," Stewart played one of the very important questions asked on Saturday night: "what would you be doing on a Saturday night if you weren't here?" Only one of the answers was believable to Stewart: Rep. Ron Paul claimed he would be home reading an economics textbook. The others proved to Stewart a "sad truth of running for president: there is no question too trivial to not merit a pandering lie."
Then there was the response from the press to the debate, which Stewart joked amounted to "When is someone going to kick Mitt Romney in the balls?" The answer: tomorrow morning! When every candidate took their shots at the frontrunner, including Newt Gingrich's claim that Romney was blathering on with "pious bologna." "Your bologna has a first name, and it's 'Pious'?" asked Stewart.
Stewart concluded with a look at Romney's answers, and his attempts to be relatable, like the advice his father gave him as a child: "never get involved in politics if you have to run to pay the mortgage." "What a relatable story!" joked Stewart, "Only run for office when you're rich."
Stewart ended the recap with a semi-rhetorical question for the rest of the Republican field: "How is Mitt Romney kicking all of your asses?"
The clip via Comedy Central below:
Have a tip we should know? tips@mediaite.com