Jon Stewart's Autism Benefit Pairs 'Rivals' Together, Including Debate Between Bill O'Reilly, Chris Matthews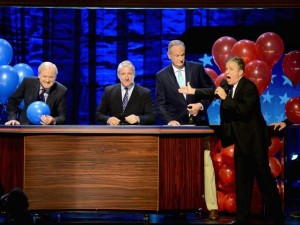 With The Rumble just behind him, Jon Stewart again joined efforts with Fox News' Bill O'Reilly — this time alongside MSNBC's Chris Matthews as well. On Saturday, O'Reilly and Matthews debated each other during Stewart's fourth annual autism benefit, Night of Too Many Stars.
O'Reilly and Matthews weren't the only two opposites paired together. Per USA Today:
Like O'Reilly and Matthews' appearance, celebrity participants were loosely organized around unlikely pairings of "rivals" or opposites you'd never expect to share the spotlight, "who will appear together on this stage for this cause," said Stewart, the evening's omnipresent emcee.
Other pairs included: Stephen Colbert and a "liberal" bear in costume, and Carly Rae Jepsen and actor Harvey Keitel. Additionally, Katy Perry performed her song Firework with "Jodi DiPiazza, a pre-teen autistic girl from Rochelle Park, N.J. (who also played piano)."
True to its name, the event brought together a whole host of celebrities. Jerry Seinfeld, Fred Armisen, Matthew Broderick and Julianne Moore were among them.
The event was taped and will air on Comedy Central on Oct. 21. During the airing, celebrities will take donations.
A teaser to tide you over:
But not before O'Reillly and Matthews got off some scripted zingers: "You, Bill, give everyone's crazy uncle something to say on Thanksgiving," Matthews said. O'Reilly, who called Matthews the product "if Dennis the Menace and Alex Skarsgard had a child," said, "You constantly sound like a man falling down the stairs," and "someone who takes the pressure off his guests, by doing all the talking."
(H/T USA Today)
Have a tip we should know? tips@mediaite.com