Jon Stewart's Epic Take Down Of MSNBC, Fox News And CNN's Inauguration Coverage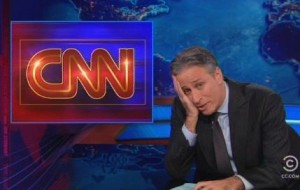 The Daily Show dedicated most of its inauguration coverage last night to Michelle Obama's bangs. So it was no surprise that they came back tonight with a more comprehensive look at the momentous event. Stewart began by covering Beyoncé's lip-synched national anthem and how if Mitt Romney had one we would have had been subjected to Meat Loaf.
But Stewart quickly pivoted to the thing The Daily Show does best with big events: tearing into the media's coverage. Playing clips of commentators' over-the-top praise of the president's speech, Stewart added, "It's a call to action like JFK's 'Ask not what your country can do for you' or FDR's 'The only thing we have to fear is fear itself' or Jimmy Carter's somewhat inexplicable 'She's a Brick House, she's mighty mighty…'"
Responding to the section of President Obama's speech that included Stonewall in with Seneca Falls and Selma, Stewart noted, "I believe it's the first time a president has name checked a gay bar at his inauguration, other than Rutherford B. Hayes reminiscing about working at the Loaded Musket."
Turning to the cable news coverage of the event, Stewart showed MSNBC remarking on the "massive crowd in Washington today" and Fox News reporting a "much smaller crowd than four years ago." Meanwhile, CNN seemed preoccupied with the first lady's dress.
But, as Stewart said, crowd size and fashion were not the most important issues of the day. "How did the dichotomous networks view the content of the speech?" He then cut to a virtual debate between MSNBC's Jonathan Capehart and Fox's Pat Buchanan on the significance of Stonewall. As Stewart summed it up, "for the losing side of history, I'm Pat Buchanan."
In the end, Stewart stated, "What is remarkable to me is how even when articulating his most full-throated liberal ideals how different actual Barack Obama is from the bizarro boogieman empty chair Obama who lives only in the minds of his opponents."
After playing some of Obama's conservative critics' harshest assessments of the president's nefarious plots to remove guns and religion from American, Stewart showed an epic montage of every mention of God and display of weapons from Inauguration Day. "Jesus, that's a lot of guns!"
Watch video below, via Comedy Central:
Part 1:
Part 2:
Part 3:
—
>> Follow Matt Wilstein (@TheMattWilstein) on Twitter
Have a tip we should know? tips@mediaite.com