Jon Stewart's Only Explanation For Sarah Palin's 'WTF' Moment? She's A Russian Spy!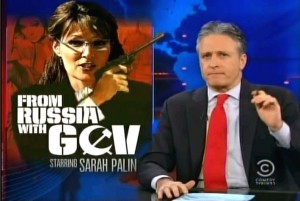 Monday nights of The Daily Show often serve as a recap of stories that broke later in the previous week, that sometimes have a "clearinghouse" effect that makes the episode feel less newsworthy. Occasionally however, there are great news moments — combined with very clever and insightful writing — that create comedy magic. Like tonight, when Jon Stewart took Sarah Palin's "WTF" assessment of Obama's State of the Union speech and came up with the only logical conclusion: Sarah Palin is a Russian Agent!
For some background, last week former Alaska governor Palin offered her thoughts on President Obama's State of the Union address to Fox News' Greta Van Susteren, and while she cleverly zeroed in on the unfortunate abbreviation of the speech's "Win The Future" theme, Palin's analysis quickly went rogue with reality, claiming that the Soviet's somehow won the that space race but that led to the fall of the Soviet Union.
After setting up the fallacies of her analysis, Stewart asked "Who would purposefully twist around historic facts and put out such a willful misunderstanding of the president's words. I mean you'd you almost have to be actually be a Russian agent." Stewart then took the absurd suggest to hilarious heights, adding "Don't you see? She is a Russian agent! Most comfortable in long, northern winters. Her favorite color is…red! What is the mascot of Russia? A bear! You are totally a super-hot Russian spy!"
Funny stuff. Watch the clip below courtesy of Comedy Central:
Have a tip we should know? tips@mediaite.com