Jonah Goldberg: Debate Surrounding Osama Bin Laden's Death 'Makes [Obama] Look Crass'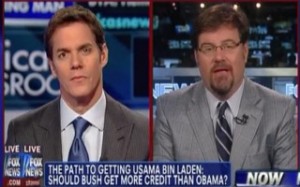 Conservative columnist and author Jonah Goldberg appeared on Fox News Channel's America's Newsroom on Tuesday to discuss the anniversary of the death of Osama bin Laden and the politics surrounding the date. Goldberg said that he felt the debate that has erupted around this date and an ad put out by President Obama's reelection campaign that questions whether Republican presidential candidate Mitt Romney would have done the same "makes [Obama] look crass."

RELATED: Piers Morgan Battles With Jonah Goldberg Over Obama's Campaigning On Bin Laden
Co-host Bill Hemmer first asked Goldberg about the political nature of this anniversary, given that it falls amidst a presidential election. Goldberg told Hemmer that he believes it is embarrassing that this anniversary has taken on the tone of a political debate.
I think it's, in a lot of ways, just an embarrassing debate. A lot of people, starting with the guy who put the bullet in bin Laden, deserve credit for this. Harry Truman – it was on Harry Truman's watch that we won World War II. Nobody thinks FDR doesn't deserve some of the credit for it. And yet, in this sort of hot house silly season it's become this political football. I think that reflects poorly on President Obama. Maybe it works for him in the polls – at least in the short term – but I think it makes him look crass. It's hypocritical, because he says – he says that he was the guy who said 'don't spike the football' and all the rest. We don't do this for a trophy and now he's making it into a political issue.
Hemmer asked Goldberg to clarify, given that he has said in the past that he thinks it is appropriate for President Obama campaign this year on his having ordered the raid that led to the death of bin Laden.
"Everything's about degree, right," asked Goldberg. He said that the ad in question in which Obama takes credit for the death of bin Laden is not that large an infraction in his opinion, but the end of the ad which questions whether Romney would have done the same goes over the line.
Goldberg also said that addressing the bin Laden ad and the controversy surrounding it while holding an official press conference in the White House besides the Japanese Prime Minister was bad form. "It just looks like he's lowering the presidency and being partisan and campaigning on his official duties, trying to get credit for something – trying to get more credit for something than he deserves," said Goldberg.
He did, however, say that this is just one brief interlude in a long campaign season and is unlikely to have much of a shelf life.
"I think this is just, sort of, a brief spat," said Goldberg. "Maybe they're prepping, laying the ground work to bring this up again in a different way – but as of right now I don't think it's going to change many people's minds."
Watch the segment below via Fox News Channel:
Have a tip we should know? tips@mediaite.com