Jonah Goldberg on Uninsured Turning on Obamacare: 'They're Out for Free Food' but 'Don't Like the Menu'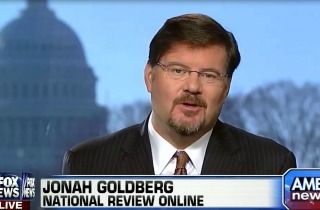 On Wednesday, Jonah Goldberg, National Review Online editor-at-large, joined Fox News Channel's Bill Hemmer to discuss the White House announcing recently that a former Microsoft executive will take over as the person in charge of overseeing repairs to the Affordable Care Act's federal health insurance exchange website. Goldberg observed that the roll-out of the ACA has been such a failure that, according to polls, even the uninsured are turning on the program. "It's like people who go to a soup kitchen and they don't like the soup," he said.

"The problem is that it's a smart move after a very long chain of really, really dumb moves," Goldberg said of the staffing changes. "It's sort of like calling in a surgeon after you amputated the leg. It's nice to have him around, but you would have wanted him there earlier."
RELATED: 'Private Sector Velocity': White House Brings Microsoft in to Fix Obamacare Site
Goldberg added that, once the website is fixed, opponents of the ACA will pivot to the structural problems with the law. He said that the website's issues were just a "gimmie" for the president's opponents.
"There are an enormous number of polling problems for this president," Goldberg continued. "A majority of Americans that are uninsured, the supposed beneficiaries of this thing now say that they don't like Obamacare, that Obamacare is bad for them."
"They're out for free food and they don't like the menu," he concluded.
Watch the clip below via Fox News Channel:
[Photo via screen grab ]
— —
> >Follow Noah Rothman (@NoahCRothman) on Twitter
Have a tip we should know? tips@mediaite.com