Jonah Goldberg On Roberts Decision: 'Consolation Prize,' Puts Obama In 'Uncomfortable Position'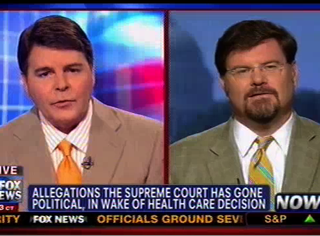 Jonah Goldberg doesn't have many good things to say about Chief Justice John Roberts's majority opinion in last week's health care Supreme Court decision. On Fox News today, Goldberg called it unconvincing and wondered whether the Chief Justice "reverse engineered" his logic, but he did have something good to say about some of the political ramifications of the decision. "I am delighted by the silver linings of this decision," he told Gregg Jarrett today, explaining that it puts the White House in an "uncomfortable" position.

RELATED: Jonah Goldberg: Young People 'So Frickin' Stupid' Voting Age Should Be Raised
Jarrett began the discussion with the report that the Chief Justice had changed his opinion at the last minute, asking whether this was a "breach of his duty." "It's a problem and it's a mistake," replied Goldberg, accepting that "courts have always paid attention to politics," but Roberts "didn't hide it very well," which made it look like he was "chickening out for political reasons." That the story of his last-minute switch leaked was an indication to Goldberg of "how rancorous this was."
Of the fact that Roberts resorted to calling the mandate a tax, Goldberg did have some good words. "This is one of these consolation prizes people keep talking about," he noted. "It guts the liberal interpretation of the Commerce Clause; it sets up a political issue by calling it a tax." These, to Goldberg, were good things: "that's all well and good, and as a conservative who wants Barack Obama to lose, I'm delighted by the silver lining." He notes that this would "put the Obama White House in an uncomfortable position" if the Romney campaign attacked on it, but lamented their soft-handed approach to doing so.
The segment via Fox News below:

—–
»
Follow Frances Martel on Twitter
Have a tip we should know? tips@mediaite.com