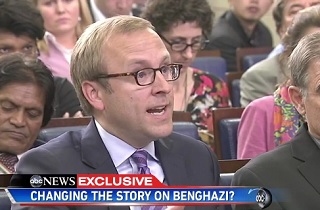 ABC News Chief White House Correspondent Jonathan Karl has been doing an interpretive dance around his White House predecessor's scoop, which refutes some of Karl's reporting on the Benghazi talking points. In reporting on a newly-released White House email, CNN's Jake Tapper suggested that Karl's source "invented the notion" that the White House wanted the State Department's concerns about the talking points addressed, but as Media Matters points out, it looks like it was Jonathan Karl who invented actual emails out of summaries and paraphrases that were provided by his source.
Prior to Tapper's scoop, both Karl and ABC News repeatedly presented those second-hand summaries as actual "emails obtained" by the reporter, and even in his response to Tapper's reporting, Karl continued to give that impression by referring to "two versions" of the same email. Finally, rather than acknowledge the error, Karl called on White House to release the full emails, presumably so he wouldn't have need to invent them himself.
Jake Tapper provides a good account of the differences between Karl's reporting, and the actual email from White House Deputy National Security Adviser for Strategic Communications Ben Rhodes:
ABC News reported that Rhodes wrote: "We must make sure that the talking points reflect all agency equities, including those of the State Department, and we don't want to undermine the FBI investigation. We thus will work through the talking points tomorrow morning at the Deputies Committee meeting."

ABC News notes in its report that it was provided summaries of White House and State Department emails, not the emails themselves.

The Weekly Standard reported that Rhodes "responded to the group, explaining that Nuland had raised valid concerns and advising that the issues would be resolved at a meeting of the National Security Council's Deputies Committee the following morning." Nuland refers to then-State Department spokeswoman Victoria Nuland.
And here's what Rhodes actually said, in an email actually obtained by Tapper:
"All –

"Sorry to be late to this discussion. We need to resolve this in a way that respects all of the relevant equities, particularly the investigation.

"There is a ton of wrong information getting out into the public domain from Congress and people who are not particularly informed. Insofar as we have firmed up assessments that don't compromise intel or the investigation, we need to have the capability to correct the record, as there are significant policy and messaging ramifications that would flow from a hardened mis-impression.

"We can take this up tomorrow morning at deputies."
There's no mention of State, which means that Karl definitely used an invented quote in his piece, and attributed it as a direct quote from "an email dated 9/14/12 at 9:34 p.m."
As it turns out, this was merely an interpretive statement from Karl's (likely administration-hostile) source. In his response to Tapper's reporting, Karl tries to paper over this:
I asked my original source today to explain the different wording on the Ben Rhodes e-mail, and the fact that the words "State Department" were not included in the e-mail provided to CNN's Tapper.

This was my source's response, via e-mail: "WH reply was after a long chain of email about State Dept concerns. So when WH emailer says, take into account all equities, he is talking about the State equities, since that is what the email chain was about."
He's trying to push this as a distinction without a difference, but his source is wrong; there could be a thousand emails from State in that chain, but unless Rhodes, or any other White House staffer, specifically mentioned State's concerns, that paraphrase is pure conjecture, and the only fair reading is that Rhodes was most concerned with the integrity of the investigation.
This would all be largely beside the point if Karl had properly attributed his reporting. Tapper's correct, Karl did reference summaries in his original report, but only once, and only muddily:
Summaries of White House and State Department emails — some of which were first published by Stephen Hayes of the Weekly Standard — show that the State Department had extensive input into the editing of the talking points.
He wrote that only after he had already claimed to have "reviewed emails," and makes it seem as though he's referring to Hayes' reporting, not his own. Nowhere does he explain that these are summaries based on notes taken by an anonymous source, a source we now know reported on these emails inaccurately.
Additionally, as Media Matters points out, Karl and other ABC News reporters claimed, on TV, that the "emails" had been "obtained" and "unearthed" by Jonathan Karl. Here are video clips of the three examples Media Matters cites:
As I mentioned earlier, Karl then compounds these errors by continuing to refer to numerous "versions" of the Rhodes email, when Tapper's scoop is the one and only version of the actual email that has been released:
Assuming, as appears to be the case based on time stamps, that this is a version of the same e-mail ABC News reported on last week, there are some differences…

The differences in the two versions are being taken by some as evidence that my source sought to intentionally mislead about the extent of State Department involvement in changing the talking points. The version I obtained makes specific reference to the State Department, while the version reported by CNN references only "all of the relevant equities" and does not single out State.
This seems intentional; Karl again claims to have "obtained," and also refers to a "time stamp" that we know he has never actually seen.
These are not small matters. Attribution is among the most basic, and most important, functions of reporting. It would have been a simple matter for Karl to have explained, at the top of his piece, that his source had read the emails, and was relaying the emails based on extensive notes, then follow each reference to the emails with "according to the source." That's the right way to do that.
Jake Tapper generously overlooked his colleague's egregious errors, instead tweeting that he agreed "the WH should release the full emails. If there's "no 'there' there," as POTUS said, shouldnt be a problem."
I agree with that, as well, but at best, the actual emails might confirm the paraphrase that Karl's source performed. It will not change the fact that Jon Kark and ABC News, intentionally or not, misled viewers about the source of their reporting. They should correct that immediately.
Have a tip we should know? tips@mediaite.com