Jordan Grills Hillary: The Attack Was Planned. Why Didn't You Change Your Story?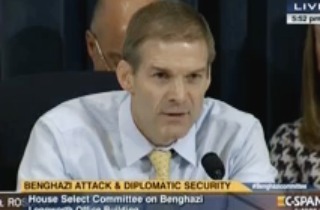 Rep. Jim Jordan has been one of Hillary Clinton's toughest questioners on the Benghazi Committee hearing today. Earlier, he went after her for claiming a false narrative that the incident was a protest that occurred in connection to one in Cairo following an offensive video towards Muslims.
During the third block, Jordan continued to drill by noting how Clinton first said in her defense that there was no initially-apparant motive for the attack, while her first public statement after the incident identified the video was a potential catalyst. "You said the first round there was no motive, no cause, you were not trying to explain the cause of the attack," Jordan said. "It sure seems like you did, you said you presented inflammatory behavior was the reason for the vicious behavior. Was that not cause and effect?"
Clinton responded that her statements on the incident have reflected her evolutions on the subject as more information became apparent as time went on. Jordan noted, however, that even though Clinton's information led her to change discussions with her family and various government figures, she did not change her public narrative when the attack was found to be coordinated terrorism.
"Your story privately was different than what you told the American people," Jordan said. "The story may have changed, the impact may have changed, in Benghazi it didn't. You tried to put it all together."
Jordan continued by noting a statement from former press secretary Jim Carney, saying there was a disparity from what it said of an un-planned incident, to a notice Clinton's Libyan press official sent saying it was more than a protest.
Clinton retorted that she addressed the video for fear of the backlash it would cause for American relations with foreign governments, and that her later statements reflected new information as it came in.
You can watch the exchange in the video above, via C-SPAN.
[Image via screengrab]
— —
>> Follow Ken Meyer (@KenMeyer91) on Twitter
Have a tip we should know? tips@mediaite.com