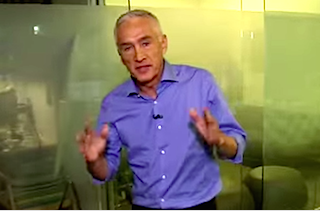 During his press conference in New York on Thursday, Donald Trump reiterated his dedication to building a massive wall along the entire southern border of the United States with Mexico. Univision anchor Jorge Ramos thinks this idea is not merely absurd but also a "complete waste of time and money."
"As you can imagine, for the last few days, I've been thinking a lot about Donald Trump and his plan to deport more than 11 million undocumented immigrants from the United States," Ramos said in a segment for his Fusion show America, following his confrontation with the GOP frontrunner a week ago.
Ramos proceeded to use a white board to literally illustrate everything that is wrong with Trump's plan. According to an estimate calculated by The New York Times, building the wall will cost $16 million per mile for a total of about $20 billion. Ramos noted that the larger border between the U.S. and Canada would remain "completely open" (assuming Scott Walker is not elected president).
"This wall would be a complete waste of time and money," Ramos continued, citing a survey that found nearly 40% of undocumented immigrants come into the country by plane and overstay their visas (this is where Chris Christie's FedEx-like tracking program comes in handy).
On top of that, Ramos noted that more immigrants are coming into the country from China than are coming from Mexico. "Go figure," he said.
On the cost issue, Trump has repeatedly said that he will force Mexico to foot the bill for the construction of his hypothetical border wall. But a spokesperson for Mexican President Enrique Pena Nieto threw cold water on that idea last month, saying, it "reflects an enormous ignorance for what Mexico represents, and also the irresponsibility of the candidate who's saying it."
Watch video below, via Fusion:
[Photo via screengrab]
— —
>> Follow Matt Wilstein (@TheMattWilstein) on Twitter
Have a tip we should know? tips@mediaite.com