Jorge Ramos on Daily Show: Without Immigration Reform, GOP 'Can Say Adios to the White House'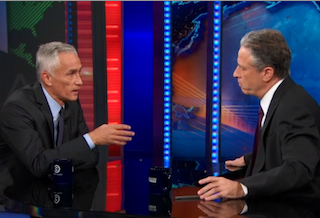 As the lead anchor for Univision's Spanish-language nightly newscast and their Sunday morning talk show Al Punto, plus the new host of Fusion's prime time English-language show America, Jorge Ramos is easily one of the busiest men in media. On Thursday night, he sat down with Jon Stewart on The Daily Show to talk about the shifting demographics in this country and their political implications.
Ramos described how when he first arrived in the U.S. in 1983 there were only 15 million Latinos; now there are 55 million. "As you know, we love to make babies," he joked, adding that as the population grows there will be "more tortillas sold in this country than hamburger buns." On a more serious note, he said candidates will no longer be able to make it to the White House without the Hispanic vote and expressed hope that the first Latino president is on the horizon.
Asked who he sees as the "standard-bearer" for this community politically, he first talking about Justice Sonia Sotomayor, the first Latina woman on the Supreme Court. Moving into the 2016 presidential hopefuls, he gave equal shrift to Senators Ted Cruz and Marco Rubio on the right as he did to Mayors Antonio Villaraigosa and Julian Castro on the left.
But, on the issue of immigration, Ramos said unequivocally that the side of the political spectrum that works harder to pass reform will be in a better place to take the White House in 2016. "Many Republicans think they can hide, and they can do politically expedient things like not putting immigration reform to a vote," he said. "But Latinos will remember that."
"Republicans have a problem," Ramos said. "If they don't pass immigration reform, they can say 'adios' to the White House in 2016."
At the same time, Ramos criticized President Barack Obama for failing to "keep his promise" of enacting reform during his first term. "His message is truly contradictory," he said.
"I feel like saying, finally to you guys," Stewart said of Ramos' realization. "Welcome to America."
Watch video below, via Comedy Central:
[photo via screengrab]
— —
>> Follow Matt Wilstein (@TheMattWilstein) on Twitter
Have a tip we should know? tips@mediaite.com